The Story behind The Stables Woodshop
Step into the captivating world of The Stables Woodshop and unravel the journey of Jeff Mann, a former Red Seal Electrician turned passionate artisan.
In the spring of 2019, Jeff embarked on a life-changing adventure, leaving his native Coquitlam, BC, and setting foot in the landscapes of Italy. Little did he know that this bold leap would pave the way for a profound transformation and the birth of The Stables Woodshop.
Under the constraints of a global lockdown in 2020, Jeff found inspiration within the confines of a centuries-old horse stable in Valtellina. Armed with a modest set of hand tools, he immersed himself in the art of woodworking, crafting small boxes and trinkets that ignited a new passion.
Fuelled by the desire to perfect his craft, Jeff's dedication and perseverance guided him to Victoria, BC, where he enrolled in the Fine Furniture Program at Camosun College. In this nurturing environment, his skills improved, and his creative vision began to take shape.
During his time at Camosun College, Jeff's commitment to pushing the boundaries of traditional woodworking earned him the Pat Lintaman Award for Design, a testament to his exceptional craftsmanship.
With newfound confidence and a wealth of knowledge, Jeff breathed life into The Stables Woodshop, a manifestation of his passion and dedication to crafting exquisite wooden furniture. The name itself pays homage to the humble beginnings that sparked his journey, as he found inspiration within the very walls of a dilapidated 200-year-old stable.
The Stables Woodshop stands today nestled in West Victoria, our studio is a testament to the enduring legacy of Jeff Mann's woodworking journey. On this website, you will find a curated selection of made-to-order furniture and accessories meticulously designed and crafted by Jeff himself. Each piece exudes timeless elegance, blending traditional techniques with contemporary design.
At The Stables Woodshop, we also believe in fostering meaningful connections with our clients. From personalized consultations to understanding your vision, we collaborate closely to create pieces that reflect your individuality and elevate your living spaces to new heights of refined luxury. Immerse yourself in our portfolio of custom projects, where Jeff's approach and exceptional skill come to life in each bespoke masterpiece. From captivating coffee tables to exquisite dining sets, every creation tells a unique story of passion, craftsmanship, and a relentless pursuit of perfection.
Welcome to The Stables Woodshop, where craftsmanship meets artistry, and dreams are carved into reality.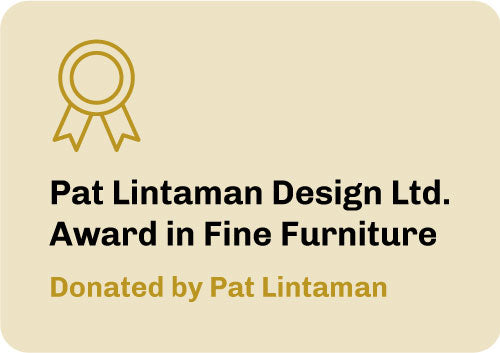 Awarded to a Fine Furniture Student who shows strength in the design component of the course and has worked to incorporate local, sustainable materials and environmentally friendly finishing products into their work.
"Jeff came into the Fine Furniture Program with no formal design training. He applied himself to the many design projects and worked hard to learn this skill. His persistence and a desire to create work of a high standard earned him this award, achieving the top combined mark for design projects."